Our Multifaith Labyrinth

Unity Vancouver Island's multifaith library is situated on the grounds of our Nanaimo Centre at 2325 East Wellington Rd. about 2 km West of the intersection with Bowen Rd. You are most welcome to visit our labyrinth at any time for a meditative walk or to sit a while.  The labyrinth includes two wheelchair "parking pads" where those who are unable to walk can enjoy the wonderful energy and peace of the place.  At each parking pad is a Braille finger-labyrinth outlining the free form layout of the labyrinth.

June in the labyrinth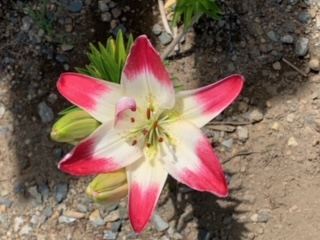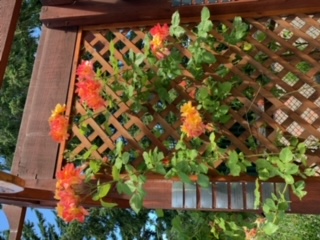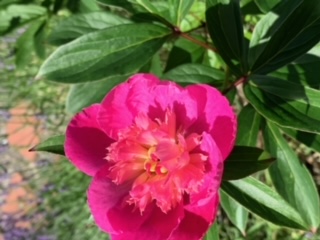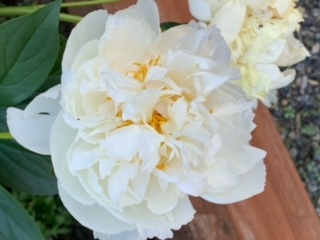 photos by Sally Brouard
Our beautiful, free-form labyrinth was designed by Richard Eliasen and built by a myriad of volunteers led by Unity Vancouver Island maintenance manager, Rick Goffic. The labyrinth honours all faith paths and paving stones around the sacred centre bear the symbols of Christianity, Buddhism, Taoism, Sikhism, Islam, Hinduism, Baha'i, Wicca and New Thought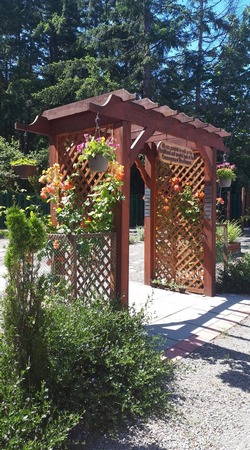 This beautiful arbour, built by Rick Goffic is the entrance to our freeform labyrinth. Welcome.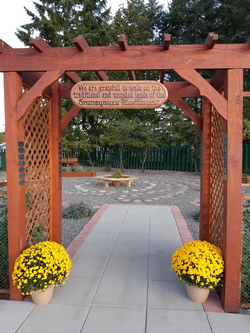 Through the entrance, notice the circular bench built by Bruce Rowland at the sacred centre.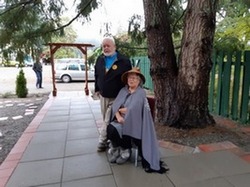 We are grateful to walk on the traditional and unceded territory of the Snuneymuxw First Nation. Elder Lolly Good blessed the labyrinth at the official opening. She is seen here with Rick Goffic, construction foreman.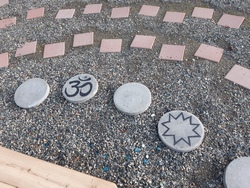 Symbols of major faith traditions encircle the sacred centre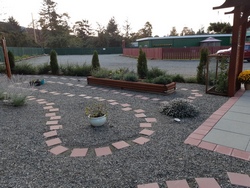 help yourself to herbs from the herb garden bed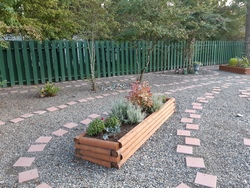 raised garden beds celebrate the seasons
Memorial bench remembering Kathy Eliasen, a long-time Unity member and Licensed Unity teacher, provided by her husband Richard who designed the labyrinth layout
Memorial bench remembering Judy Peach, daughter of Rev. Patricia and a victim of the opioid crisis. Many other loved-ones are memorialized on plaques on the entrance arbour.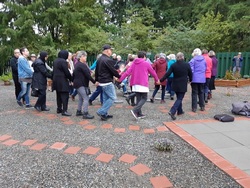 Members of Unity and multifaith guests performing Universal Dances of Peace at the labyrinth opening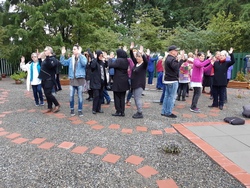 Universal dances of peace
About Labyrinths

A labyrinth is an ancient symbol that represents wholeness. It is usually circular with spiraling paths within the circle to form a meandering but purposeful  journey.  Our labyrinth is unusual in that it as been designed to fit within the available space, but is still meandering and purposeful.
A labyrinth is unicursal, offering only one path.  The way in is the way out. There are no blind alleys. The path leads you on a circuitous route to the center and out again.  As a meditation tool, the Labyrinth represents a journey to our own center for self discovery.
As a metaphor for life's journey walking the labyrinth facilitates moving from ego and sense-consciousness to a connection with all that is.
Unlike a maze, a labyrinth is not a puzzle to solve.  It has no blind alleys or dead-ends.  It does not require logic.  A labyrinth involves surrender to what is and mindfulness of "now".  There is only one path and there are no choices to be made.  The only choice is whether or not to enter.
At its most basic level the labyrinth is a metaphor for the journey to the center of your true self; then back into the world with a deeper and broader experience of Self.