UPCOMING EVENTS
---
SUNDAY AFTERNOON CONCERT SERIES
NEXT UP - TEIGHAN COUCH WITH NICO RHODES
A Swingin' Affair
POSTPONED TO A DATE TO BE ARRANGED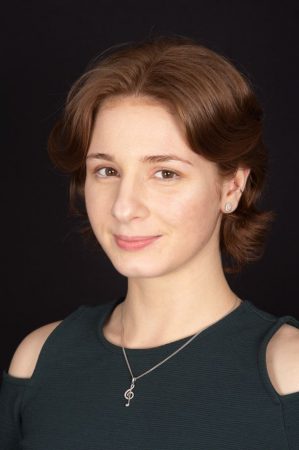 Originally from Ottawa, ON, Teighan moved to Nanaimo with dreams of becoming a vocalist under the inspiration of her favourite jazz artists Ella Fitzgerald, Dizzy Gillespie and the Oscar Peterson Trio. She is currently studying in her last year of her Bachelor of Music at Vancouver Island University and has taken a keen interest in jazz studies and vocal improvisation. She can be seen performing at venues like the Port Theatre, the Vault Cafe and the Flying Canoe. She is a powerful, soulful vocalist with a knack for scat and devoted love for the healing power of song. She is excited to share her ardent knowledge of music and voice with her students.
SUNDAY, AUGUST 21 AT 1:00 P.M.
TICKETS  $20 available after Sunday services or phone 250-591-0775
ALL-ISLAND ANNUAL PICNIC
Saturday, September 10, 11-4
Elk Lake/Beaver Lake Regional Park (victoria)
Everyone welcome
to arrange to car pool please call the office 250-591-0775

On-Going Events
Choir Resumes September 5,  Registration at 6:30 p.m.
This community choir is open to everyone and no audition is required. We meet Mondays at 7:00 p.m. in the big building at 2325 East Wellington.  Rehearsals are fun and casual; we are slowly building a repertory of familiar songs with the intention of performing at Seniors' facilities, and occasionally perform at Unity Services.
By donation
World Day of Prayer
Join Unity Canada chaplain Rev. Barbara Schreider-Trudel for a beautiful 2 hours prayer vigil
Thursday, September 8, 10-12 PT
Zoom Link
---
ALL ISLAND ANNUAL PICNIC
Saturday, September 10, 11:00 a.m.- 4:00 p.m.
At Elk Lake/Beaver Lake Park
Potluck
Bring chairs, blankets, games etc.
---
International Day of Peace
This year we will again join Nanaimo Greenfaith Circle to honour Peace On and With the Earth.
Saturday, September 17, 2-4 p.m.
At the Bowen Park Amphitheatre
A COURSE IN MIRACLES
Liane Moores
Join Liane and friends for this fun and uplifting discussion group.
Every Thursday at 10:30 in the studio at 2331 East Wellington
All levels, everyone welcome
By love offering
BOARD GAMES NIGHT
Join the fun every 1st and 3rd  Friday evening of each month from 6:30 - 9:00 p.m.  Bring your favourite game or join one of ours (we have lots).  Bring the whole family, open to everyone.  There is no charge but donations are always welcome.  Tea is provided and sometimes cookies show up.
SEATED TAI CHI
Join Rick Goffic for this seated class  For information contact Elly at ellypark@telus.net
Tuesdays at 10:00
By donation
ON HIATUS UNTIL SEPTEMBER
PAST EVENTS
ROOTS & GROOVES
RICK SCOTT & NICO RHODES
IN CONCERT, SUNDAY JUNE 12 @ 1:00
IN PERSON AT 2325 EAST WELLINGTON 
PRAYERS ON A THREAD WORKSHOP
WITH REV. VICKI VANDERHORST
SATURDAY, APRIL 30, 1-4 P.M.
In Person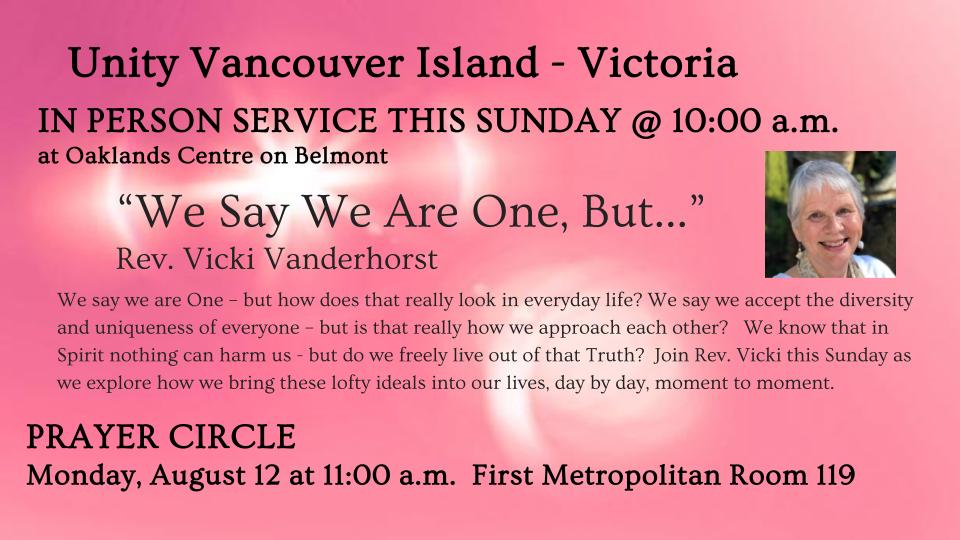 Rev. Vicki Vanderhorst
By the end of this workshop, you will have created your own prayer beads with your own set of personalized affirmations.
Inspiring and fun
By Suggested donation of $20.00
PLUS
Fee:  $5.00 for supplies (Lots of beads provided but if you have special beads you would like to incorporate, please bring them)
Register by emailing revvicki@unityvancouverisland.com
Your first paragraph ...