---
PANCAKE BRUNCH
MOTHERS' DAY SUNDAY FOLLOWING SERVICE
Sunday May 1
Thank you to Gilles and Sally Brourard and the team for this wonderful event,
back by popular demand.
By Donation
---
JOSHUA AND NICO TOGETHER !!
IN CONCERT, SUNDAY MAY 15 @ 1:00
IN PERSON OR ON ZOOM
TICKETS HERE 
---
---
On-Going Events
NICO RHODES CHOIR
This community choir is open to everyone and no audition is required. We meet Mondays at 7:00 p.m. in the big building at 2325 East Wellington.  Rehearsals are fun and casual; we are slowly building a repertory of familiar songs with the intention of performing at Seniors' facilities, and occasionally perform at Unity Services.
By donation
A COURSE IN MIRACLES
Liane Moores
Join Liane and friends for this fun and uplifting discussion group.
Every Thursday at 10:30 in the studio at 2331 East Wellington
All levels, everyone welcome
By love offering
BOARD GAMES NIGHT
Join the fun every Friday evening from 7:00 - 9:00 p.m.  Bring your favourite game or join one of ours (we have lots).  Bring the whole family, open to everyone.  There is no charge but donations are always welcome.  Tea is provided and sometimes cookies show up.
SEATED TAI CHI
Join Rick Goffic for this seated class  For information contact Elly at ellypark@telus.net
Tuesdays at 10:00
By donation
FAMILY SINGING CIRCLE
At 6:30 p.m. on Mondays, just before choir practice, bring the kids and your rhythm band type instruments for a half hour of singing and fun, then stay to watch some or all of the choir practice.  Let's give the children an experience of what it would be like to sing in a choir; who knows where this may lead.
PAST EVENTS
PRAYERS ON A THREAD WORKSHOP
WITH REV. VICKI VANDERHORST
SATURDAY, APRIL 30, 1-4 P.M.
In Person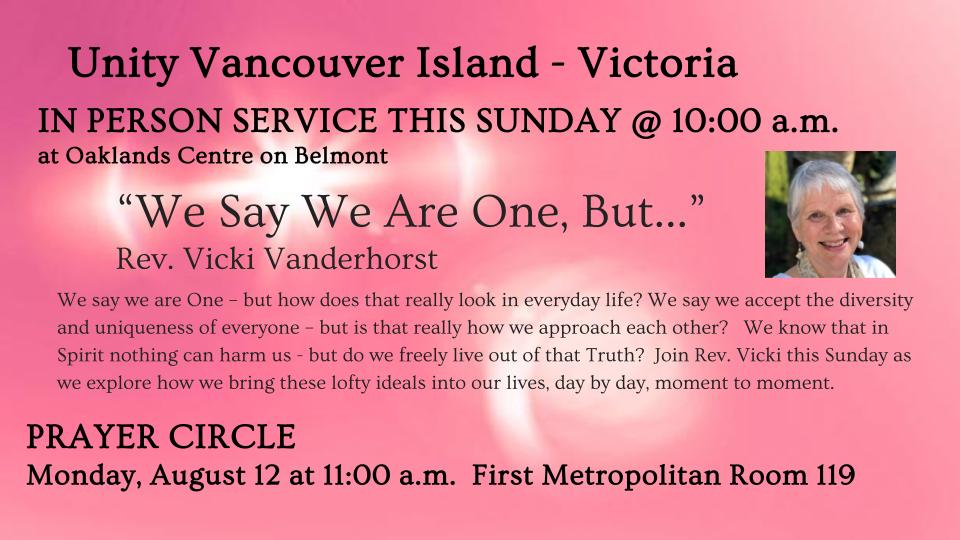 Rev. Vicki Vanderhorst
By the end of this workshop, you will have created your own prayer beads with your own set of personalized affirmations.
Inspiring and fun
By Suggested donation of $20.00
PLUS
Fee:  $5.00 for supplies (Lots of beads provided but if you have special beads you would like to incorporate, please bring them)
Register by emailing revvicki@unityvancouverisland.com
Your first paragraph ...