Back to Affiliations and Affiliated Activities

INDIGENOUS ALLYSHIP
CANADA DAY - A NEW WAY

ONCE AGAIN IN 2022
Tsumqwatun will once again join us on Friday, July 1, 2022 in our labyrinth at 10:00 a.m. Please join us and invite your friends, both Indigenous and non-Indigenous.  Let's talk together, sing together, learn together and lead the way in introducing changes that can lead to a Canada we can all celebrate.
Bring a lawn chair and drums/rattles if you have them.
Refreshments will be shared (donations of refreshments welcome)
At Unity Vancouver Island we are working to create a new awareness around Canada's history and our opportunity to create a better future by listening and learning.  We are most grateful to Tsumqwaten (Lawrence Mitchell) and members of the Indigenous community for leading us in song and prayer together.


---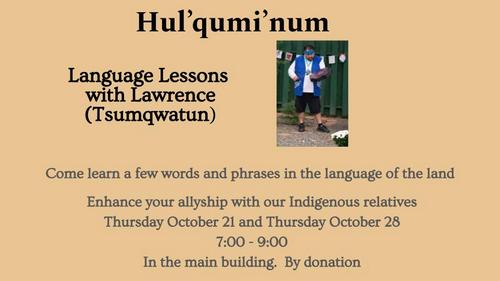 Indigenous Honouring day
Sunday September 26, 2021

Sunday Service at 10:30 a.m.  Join us on this Sunday before "Orange Shirt Day" as Tsumqwatun (Lawrence Mitchell) shares about the healing journey we are on together.
Following service, stay for a salmon barbecue - rain or shine - Tickets are $15.00.  Please reserve in advance so we can shop and prepare appropriately.  Here is the link
Then at 1:00 p.m. Elder Stella Johnny will lead us in an interactive, intercultural workshop, "A Creation Story", approximately 3 hours, by free will donation.  Registration is not necessary but helpful.  Register for the workshop here
If you just don't want to "do Eventbrite" call Patricia at the office (250)591-0775 to register the old-fashioned way